Gary Moat, drummer for Hard Rock bands Heavy Pettin and Mothers Ruin. Interview April 26, 2012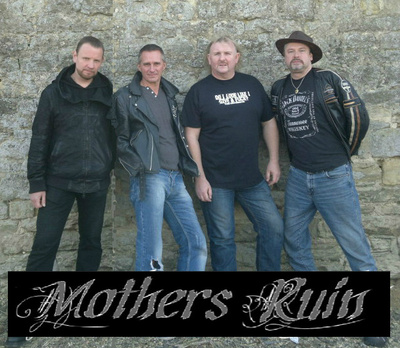 Heavy Pettin Interview
1. Gary what have you been up to lately?
Just been rehearsing the band for the past 6 months, now just starting to play live shows.
2. Could you tell us about your current band?
Mothers Ruin, first got together with these guy's back in 1991, then only stayed together for a year or so, played a few local gig's then we all went our separate way's till 2011. Adrian Dunn on lead guitar, Joe Thomas on bass, Mick Ivory on drums and myself on guitar/vocals.
3. Do you participate online at all?
yes I'm online.
4. Since the days of Heavy Pettin' would you say the music world changed much?
Oh yeah big time.
5. Any tours lined up in the near future?
No major touring planned at the moment but we are out playing in the uk and we're off to Hard Rock Hell in Ibiza on June the 1st 20012,cant wait.
6. What do you think of the music industry today and where it is going?
Not much the internet has sucked the band's dry, and now of course the world has no money, everybody wants you to play for free, lol, as for the future, what future?
7. What could we find interesting in your music collection at home?
Not much I still love all the music i was listening to as a boy, hats why I'm out playing with Mothers Ruin, because I don't hear that music being made today and we all love classic rock.
8. Could you describe what goes on in a day in your life as a musician?
A lot of sleeping/waiting around, a lot of drinking, and a hour and a half of mayhem on stage, love it ! Our manager is my wife so I have to be on my best behavior at all times, yeah right, lol.
9. How is the Music scene in your area today?
Healthy, lots of rock cover/tribute bands, and some good original acts, but the gig's are getting harder to find as the clubs shut down.
10. Any words for future musicians?
Don't give up, don't sit at home moaning, get out and find like minded people and take on the world ! All the best Jason, Gary, Mothers Ruin.
Comments
comments