JD Bradshaw Interview: American Hard Rock and Heavy Metal guitarist. Interview August 1, 2012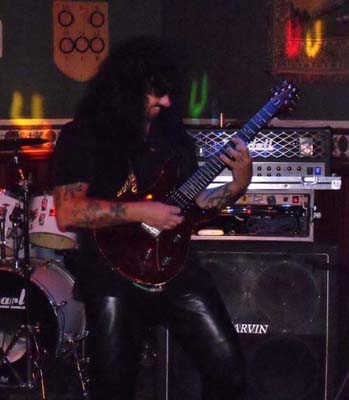 JD Bradshaw Interview
1. What has JD Bradshaw been up to this summer with music?
Playing live in The Debbie Caldwell Band, giving guitar lessons and promoting my new cd release "Waiting at the finish line"
2. Where will you be touring this summer?
Currently I have been performing with the band in the states of Delaware, Maryland and Virginia and in the resort area of Ocean City Maryland which is along the East Coast seaboard..
3. How do you manage your time inside of a band?
I make time pertaining to whats going on at the moment.. Alot of my free time is spent with my wife traveling, going to concerts, shooting my firearms and enjoying the outdoors
4. What are your current endorsements?
PRS Guitars, Big Bends LLC, Godlyke Dist.Inc, Hardwire Pedals, Digitech Pedals, Hot Picks USA and Sfarzo guitar strings..
5. Without Social Media could bands today manage to survive?
Yes.. I feel that the social media outlets are great but it will turn you into a lazy musician if you arent careful… You have to get out of the house and hit the bricks to promote your band or yourself to the public as well…Make up posters, flyers, go hang out in clubs, go to shows and get the word out… Potential fans like to get to know you in person because you can tell alot about a person by talking with them and being somewhat social with the public…
6. What's your vision of the internet for musicians in the future?
I think the growth of musicians will go through the roof and younger musicians will be able to pick up guitar styles a lot easier that the ones before them.. I do not think the internet will replace music teachers though…
7. What could we find interesting in your Music collection today?
I have everything from 50's rock n roll, Hair metal, Southern rock, Extreme black metal, female metal bands, Frank Zappa, GG Allin plus The good ole Mentors in my collection..lol.. I like to hear alot of ripping lead guitar playing along with a good singer who delivers the goods in most of the music I listen too.. I have a big collection of 1980's European thrash metal, black metal and some power metal too.. and yes a ton of cassettes and records too..
8. Could you describe what goes on in a day in your life as a musician?
Some days I only promote my cd releases,do radio/print interviews,work on new original material, then other days I draw up lessons for my guitar students and teach music, then towards the end of the week I go to band rehersal and play live when the gigs are available..
9. Where do you see Rock Music in 100 years from now?
I think it will still be stronger than ever but with more exotic music instruments being added to the music.. I think the sound of recording on a reel to reel tape machine will come back around after the digital age burns itself out.. Nothing like hearing the warmth of music on reel to reel…
10. Any words for musicians starting out?
I get asked this alot and all I can say is "You get out of it what you put into it" because there are no short cuts in music.. and you have to "pay your dues" because hard work will get you where you want to be..
Check out JD Bradshaw Online
Comments
comments