Josh DeShazo, Guitarist and vocalist for Progressive Metal band Stealing Axion. Interview August 10, 2012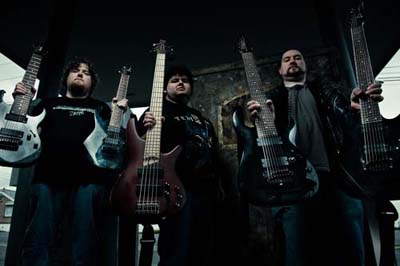 Stealing Axion Interview
Could you tell me about the recording for the  upcoming Stealing Axion album Moments?
Dan, Phil, and I spent about 3 months recording Moments in the after hours of our jobs.  We would all get off work and then get together at Dan's place to record almost every night of the week.  We basically had two full time jobs each during this process and it rendered us very sleepy for work most days haha.  It was a great experience though and a lot of creativity came out of working like this.  I'm not sure if it was the abundance of caffeine, or if we just got into a groove while recording, but something cool happened in those early hours of the mornings to create Moments.
How did the song writing process work for the Stealing Axion album?
We began the album with some older songs that each of us had written years ago and started reworking them into a cohesive sound that later shaped into the band.  We all write music fairly often and we all write music in similar styles naturally just by being around each other so much growing up, so creating a band with our styles was inevitable.  We originally were just going to rework some of these songs as a project, but then Dan had new songs he was working on as did Phil and so we decided to push the project to the next step by writing an album.  I took charge in the lyric and concept department, but I really enjoy bringing the concept to life by discussing it with the other band members and listening to their ideas for the story.  We occasionally write together and some of our best lyrics come about this way.
How is the music scene in your area?
The music scene in the Seattle/Tacoma area is very active and supportive.  The bands around here all know each other very well and support each other's music avidly.  When we broke into our scene by playing live shows as warm-ups for tours, we seemed to fit right in with all these guys that had been playing for years and building their fan-bases.  We have had so many great shows here at home being on the bill with the bands around our home.  When we toured, we really grew to appreciate our local scene and how active and supportive it is because we saw that metal shows don't bring out as many people in other places as they do in our hometown.
Who endorses Stealing Axion (equipment-wise)?
Currently we have no endorsements.  We are sort of holding out for a while until we really need help in that department haha.  We did get some help from Toontrack a couple years ago with getting ahold of some software as an artist, and this has greatly helped our demoing process for the second and third albums.
Any tours coming soon for Stealing Axion?
We currently have an upcoming tour in Europe with Jeff Loomis, Vildhjarta and Monuments. We are extremely excited to be spending a month over there with guys that we have grown to know well since first starting the band.  We've kept in close contact with the guys from the other bands and I think all of us are very happy to be on tour together.  Beyond the Europe tour, we have some things in the works, but nothing set in stone yet.  We are looking to tour the US at the beginning of the year and hope to arrange that soon.
What do you think of the music industry today and where it is going?
The music industry these days has obviously changed quite a bit in even the last ten years.  I believe that bands today have to be more than just musicians to be successful.  Labels are able to help in a lot of ways with promotion and even art, but if a band is able to do everything they need without outside help, then they are going to be a lot better off.  The industry has kind of been steered away from record sales as a main income source, although the labels in the industry heavily depend on these sales still.  I get the impression that things are on the rise again as far as record sales go because people are aware of how it affects bands.  There have been years worth of articles since Napster revolutionized pirating music digitally that explain the effects of it on the music industry, and it seems to me that people are starting to spend money on albums or songs in order to simply attempt to regain value to the art.
What could we find interesting in your music collection at home?
We listen to a wide variety of music around the house haha.  Just to name a few that we've been listening to lately: Camel, Devin Townsend, Storm Corrosion, Pain of Salvation, Monuments, The Safety Fire, The Omega Experiment, Gojira, The Flower Kings, and Mew.
Could you describe what goes on in a day in your life as a musician?
Generally we wake up and check our email first thing.  This usually gives us something to accomplish during the day and we then set out to do that by whatever means necessary.  Most days we work, so we keep in close contact through a "walkie talkie" app on our phones to relay messages and try to get things done.  Phil usually spends free time by working on new shirt and/or art designs for the band, while Dan and I try to brainstorm new ways to promote constantly.  I'm often in contact with the label and able to keep track of what's going on day by day to ensure that we don't forget to do anything haha.  It gets pretty hectic and usually after we get off work, we wrap up whatever task we had going that day and relax by watching movies or playing video games for a little bit.  It's a pretty intense lifestyle, but we've become accustomed to it over the past year or so and we really enjoy taking care of these things since we generally see immediate results based on what we'd worked on.  This serves as inspiration for us to stay hard working.  All the meanwhile we never lose touch with our fanbase and reply to questions and comments regularly throughout the day.  If we didn't have smartphones, this band wouldn't be anything hahaha.
Would you say the health of the music scene is becoming stronger? Or no?
It's tough to say because while I see a lot of support for bands online, I have noticed a lot of tours getting cancelled lately.  I'm not entirely sure for the reasons behind these cancellations, but it occasionally worries us since we're trying to get our touring career started right now.  We are hopeful that the scene is becoming stronger, but it's such a complex thing to analyze that we really only can hope.
Any words for future musicians?
No matter what the scene throws at you, if you keep at your music and if people genuinely love it you will have a purpose for your craft.  We've had to sacrifice a lot of things in order to do what we have and will do, but we never regret any of it.  This is an adventure that only writing and performing music can send you on.
Check out Stealing Axion Online http://www.facebook.com/stealingaxion
Comments
comments