Neil Daniels, author for such biographies as Metallica, Iron Maiden, Bon Jovi, Journey, Judas Priest, Robert Plant and lots more.
Neil Daniels Interview
1. Where do you get your inspirations to write a book?
Sometimes I just wanna write a book on a band I really like and having done quite a few books now publishers have ideas which they approach me about. For my Latest book Metallica – The Early Years, it's something of a fanboys project. I've actually wanted to do this for a while but it was only recently that I found an interested publisher: Martin Roach at Independent Music Press. I worked with Martin before when he hired me to write a bio of Robert Plant back in 2007. He was really keen on the idea of a book on Metallica. Given that the band's best work is undoubtedly their first four albums – possibly the fifth in some fans eyes – and that they've recently celebrated their 30th Anniversary it seemed like a no brainer. When metal fans talk about Metallica's best albums they usually mention Kill Em All, Ride The Lightning, Master Of Puppets and Justice.
 2. What current projects are you currently promoting?
Well, at the minute I'm promoting my new book on the early years of Metallica and my forthcoming full colour tome on the mighty Iron Maiden. I'm also working on five books; a fictional rock novel, a book on Bon Jovi's best album Slippery When Wet and some books I can't yet mention. Another early years book, a punk bio and a metal bio. You can read a bit more about my forthcoming ventures at the official website.
3. As an author do you think Social Media helps promote publications more then the classic methods of promotions?
Absolutely. I think it's the best and most vital way of promoting books now. A lot of magazines don't even bother reviewing books and when they do it's 20 to 100 words so little is said. I think Facebook, Twitter and the like are absolutely imperative in terms of promotion. It can be very time consuming but you'll see the benefits.
4. In the future what other bands or artists could we possibly see published by you?
Yes, I've got a book out in August which I'm not allowed to mentioned specifically yet and then I have four books out next year inc. a second one on Bon Jovi. It's too early to announce the others yet but you can read about my up coming stuff nearer the time at neildanielsbooks.wordpress.com. There are literally loads of other bands I'd love to write about but finding a publisher can be hard. You have to be realistic. Who would want to buy a book on this band?
5. Let's take a book like "The Story Of Judas Priest: Defenders Of The Faith", where do you start to collect information to write a book like this?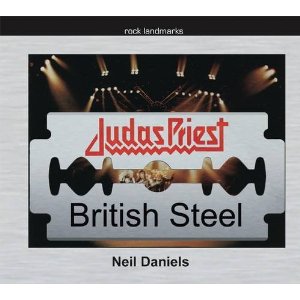 It took a year with about six months dedicated to research, phone interviews, tracking people down etc. I spent about an equal amount of time writing. It was my first books so I had some teething trouble but I like to think I've gotten better not just as a writer but my methods of creating a bio. I've had 11 books published since that one came out with books 13 and 14 due in the summer. Usually, I start with a timeline and then I move on to creating a list of potential interviews and I compile the research before I start typing. The paperback version was released in 2010 with an extra chapter and it has been so far translated into six foreign languages.
6. How much promotions will you be doing for your book "Iron Maiden: The Ultimate Illustrated History" to make sure it gets to all possible outlets?
I do as much promotion as I possibly can but at the end of the day if no one wants to buy it because of the subject than there is nothing you can do. Thankfully, Iron Maiden are one of the biggest bands in the world right now and this book looks pretty amazing. It's a huge hardback coffee table book; full colour with killer graphics.
7. What could we find interesting in your Music collection in 2012?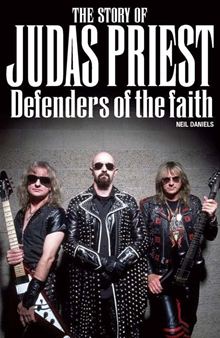 One common misconception about metal fans is that we only listen to the heavy stuff. Metal fans are some of the most literate and broad minded people of any type of music lover. At the minute I'm going through a heavy singer-songwriter phase; mostly American. I'm picking up CDs by Paul Simon, Bruce Springsteen, Neil Young, Joni Mitchell and James Taylor et al. I've always loved Billy Joel especially his earlier stuff. I'm currently reading a hefty biography of Neil Young called 'Shakey' by Jimmy McDonough.
8. Could you describe what goes on in a day in your life as a Heavy Metal Author?
I have a full-time job so it's not that interesting. I work in the daytime and when I'm home I write.
9. Where do you see Heavy Metal in 100 years from now?
It'll still be around but it'll manifest itself in different ways by reinvention.
10. Any other things you would like to promote?
My main book at the minute is Metallica – The Early Years published by Independent Music Press here in the UK. The Iron Maiden book is due in June by Jawbone in the UK and Voyageur Press in the US. Keep checking http://neildanielsbooks.wordpress.com/ for info. Thanks guys!
Comments
comments