Julia Kosterova Interview – Progressive Rock and Metal guitarist. Julia Kosterova Interview September 7, 2012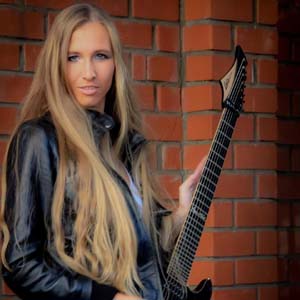 Julia Kosterova Interview
1. What are some of the musical projects right now for Julia Kosterova? My main project is my solo project. I have a new show that is instrumental progressive rock in its power version and at the moment I am finishing my first EP. The record features Derek Sherinian (ex-Dream Theater, Planet X, Black Country Communion, Billy Idol) on keyboards, Marco Minnemann (The Aristocrats, Steven Wilson) and Brian Tichy (Whitesnake, Foreigner) on drums and Chris Buck, Michael Devin (Whitesnake) and Rufus Philpot on bass.
2. How was your summer any cool tours?  Most of the summer was in the studio, with some guitar clinics and appearance at the NAMM show in Moscow  –  that was the first NAMM show to take place in Russia.
3.  What are some of your current endorsements Julia Kosterova? I'm happy to work with great companies! I have just received my new 7-string LAG from France – Stephan Forte Signature model,  and my signature guitar is also to come. Hughes & Kettner amps  make a perfect fit for the variety of styles and sounds I integrate in my music. At the moment  I have a cute little monster TubeMeister 18  that is doing an unbelievable job both in the studio and live and works perfectly for my mobile lifestyle.  In the studio and my mobile rig I use a Pro Tools system that is my choice for writing, arranging, recording, mixing and video post production and it also tremendously facilitates collaboration with everybody involved in the project – exchanging Pro Tools sessions has been the easiest part in the making of my record.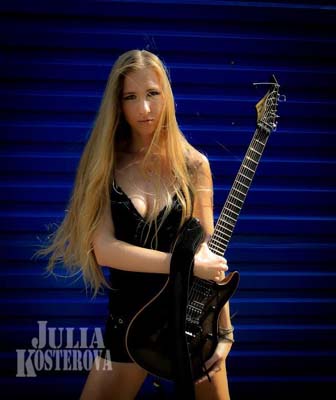 4. What's your take on the sex appeal in the music industry? It's a part of the gig, or marketing mix, whatever you call it.  Like it or not, it exists and is widely capitalized on by modern marketing – not only in the entertainment or music industry. So why make it any special?  However, as an artist and marketing pro I think everything you do should be done with taste, style and respect.
5. What are some of the best social media sites you use to promote yourself as a musician? My own website is the hub for it all. Well, as a matter of fact I have 3 websites for my projects. In addition to my main artist website www.juliakosterova.com there is one for photography/visual arts (www.julyphotoart.com) and one is guitar oriented blog (www.julyshredder.com).  Social media is a great way to network and connect with fans. Facebook,  Twitter, Youtube, SoundCloud, LinkedIn, Reverbnation  – you name it. Also there is a new platform called Indaba Music, that has some innovative approach to promotion and great fans involvement capabilities which I like.
6. Do you practice your instrument every day to keep up with current styles and genres? Yes, I do practice a lot. Besides current projects,  I enjoy transcribing music which resonates with me and takes me beyond what I already know/play. But that's only a part of it. Unlike many guitarists, most of the time I write on keyboards and 'build' music in Pro Tools,  so I have most of the arrangement ready before I even touch guitar. The great thing is it all comes from what I hear and eliminates guitar cliches, but, on the other hand, sometimes it takes me a lot of practicing to be able to perform live my own music :)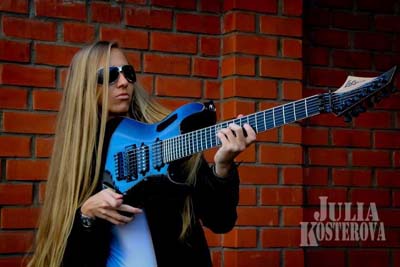 7. What would be some of your main influences?
At the age of three I remember myself listening to Bach organ music and that's what I wanted to play, but there was no space in the room even for an upright piano. However, we had a guitar – as my dad played guitar –  that I found a cool option as well.  There are many influences. Starting from the Beatles, Rolling Stones and Santana when I first picked guitar as a kid and digging further through blues, jazz, classical on one side and from classic rock to metal fusion on the other. Jeff Beck, Eric Clapton, Deep Purple,  Led Zeppelin, Queen, Whitesnake, Yngwie Malmsteen, Vinnie Moore, Steve Vai, Tony MacAlpine, Frank Gambale, Steve Lukather, Van Halen, Dream Theater, Planet X – just to name a few.  Also Wes Montgomery, George Benson,  Lee Ritenour, Allan Holdsworth, Scott Henderson and many many more, not only guitarists. I've been writing music in different styles since I started playing.  Also at the jazz college I had music composition as one of my specializations – that really broadens one's perception of music beyond what one would do as an instrumentalist.  My energy is explosive when I play, more on the stadium rock side, but with love and knowledge of all this beautiful music I'm creating my own version of melodic power prog.
8. Could you describe what goes on in a day in your life? Well, at this writing/studio stages it is: Running and yoga on the beach or in a park. Power/weights  work out. Writing music, practicing, recording most of the day. Business & marketing stuff. Photo shoots, business meetings. Teaching.  The order varies, with brief yoga and meditation breaks several times a day, but I always work like this. Add to this jams, master-classes, rehearsals  and gigs. I also enjoy photography and painting which work as an alternative way of meditation for me, and eventually have turned into a part of my business.
9. Any upcoming tour dates? In January, I will be performing at the NAMM show in Anaheim and working on a tour to follow early in 2013.
10. Any advice for musicians that are starting in the music industry? Dream big, do what you love, believe in yourself, learn as much as you can, integrate all your skills and knowledge to create something unique,  take a good care of the business side. Do your best, be kind and collaborative, always look for a win-win outcome. Work out a lot and adopt healthy lifestyle) Do it now, don't wait for opportunities.
Check out Julia Kosterova on Facebook.
Comments
comments