Mat Davis, guitarist for Doom Metal band Castle. Interview August 27, 2012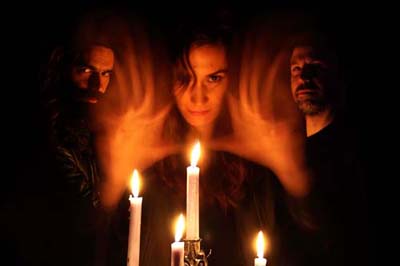 Castle Interview
1. Could you tell me about the recording process for latest Castle album Blacklands?
We spent about a week at Sharkbite Studios in Oakland with Billy Anderson. We did the tracking in about 4 days and mixed for a couple. Liz and I went down to L.A. and finished mixing with Billy the week after. Really long marathon sessions… but it was great. We spent quite a bit of time on the pre-production so it would go as fast as it did. We had all the guitar tracks and vocal tracks mapped out and ready to lay down.
2. What were some of the influences for the album?
Judas Priest was on the stereo a lot when we were putting the last ideas together for the vocals and the final arrangements. I've always really dug the early Priest records from Stained Class up to British Steel. They have epic songs without ever belaboring the point or getting boring… really tight riffs and great songwriting. That was a definite influence, if not entirely with the music then definitely in the attitude.
3. Does the band Castle mostly play the same equipment on stage as was in the studio?
It's a mix… We try anything that's around in the studio. For this record we rented some gear, I borrowed some from friends, used some of our own and found some crazy amps in the studio. There's a Wizard cabinet I've used on both records but it's a good friend of mine's. It has a really, really heavy low end to it. On both records I used combinations of Marshalls and Mesa Dual Rectifier, the latter of which I use onstage.
4. Would you say Social Media Online has changed the Music Industry for the good or the bad?
I guess like with anything it might be a bit of both. I was playing around in bands a long time ago, before the internet (!) and there was a lot less bands and there was what seemed a more genuine approach to it all, whether it was the college radio shows or the fanzines, etc… There was a network but it wasn't as easy as clicking buttons on a laptop, you know? You had to want to do it. Maybe the online world has lowered the quality of some things but if you still have that genuine article it's easier to get the word out and that's not such a bad thing.
5. Is there any tours lined up for the upcoming future?
Yes we have a few; one should be announced this week. A full US tour starting in early Oct and wrapping up just before Thanksgiving. There might be another US tour in March followed by some European dates and the Roadburn Festival in Holland.
6. What's your vision on the Internet as a way to releasing Music Online now days?
I think its fine to listen to but I also don't see it as a replacement for a copy of a great record that you want to experience on a deeper level. There will always be a place for the hard format of a cd or vinyl… it has a connection to the band or artist, their vision, the artwork etc… that you could never have with an mp3.
7. With all the bands coming out today. Do you keep updated with what comes out online at all?
Not a lot. I hear of bands through different ways and I guess yeah, there's times when I'll listen to a band online to get a feel for what they do but it's usually not until I see a band live that it really connects.
8. What could we find interesting in your music collection at home?
I have a pretty wide range of music on hand at any given time. I like anything that's interesting musically and can get into things on different levels. For a long time I collected records and spent some time buying and selling them too, always setting the treasures aside for my own collection. Liz and I have been travelling around for the last year so that collection is in storage right now. I just had it out recently and spent some time getting to know my record collection again, which was great.
9. Could you describe what goes on in a day in your life?
It depends on where Liz and I are at… currently we've been travelling a lot and working up some ideas for an EP we're planning on recording and releasing next spring. Also with the upcoming US release for "Blacklands" and the accompanying tour there's a lot of day to day band stuff that keeps us busy.
10. How is the Music scene in your area today?
Liz and I have been out of San Francisco since earlier this year but the music scene there is always great. There's tons of bands and lots of clubs to play. I think less people are going to shows these days but the metal scene in general has stayed healthier than others. I think metal fans associate more with the bands they listen to and seeing a band live is part of being a metal fan so yeah San Francisco is one of the better cities I know of that supports that.
11. Any words for future musicians?
Only the music matters.
Check out Castle Online http://www.heavycastle.com/
Comments
comments