Yvonne Doll, singer / guitarist for Indie Rock group The Locals. Interview September 6, 2012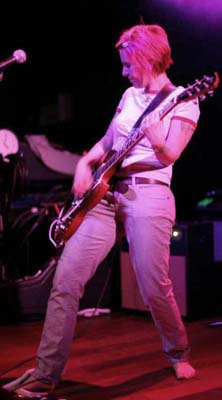 Yvonne Doll Interview
1. What are some of your musical projects right now? Well, The Locals (my band) are in the studio completing a new EP! Hoping to release it this winter. I'm also goofin around with some really cool female musicians here in Chicago, we're doing a PJ Harvey cover band, and having a blast at it!
2. How was your summer any cool tours? My summer has been great. We have been working with a new drummer (our old drummer just moved to California) so our tour schedule has been light as we've been getting "the new guy" up to speed. I did get a chance to hang out with some amazing ladies at the first ever Women's Music Summit in Big Indian NY! Even got to jam with Meshell Ndegeocello, that was pretty incredible.
3.  What are some of your current endorsements? You know it's funny, we haven't really ventured into endorsement land yet. I do love my Gibson guitar though, hello Gibson are you listening?
4. What's your take on the sex appeal in the music industry? Oh wow, hmmmmmmmmm, well I think if you are talented and putting out genuine, authentic music that should be the most important thing. I know it's often not but I'd like to stay gleefully naive on that point.
The Locals Interview: three piece, alt-pop, indie rock band
Eric Ethridge Interview, 2016 CCMA Discovery Program winner
Chris Buck Interview – Buck & Evans
5. What are some of the best social media sites you use to promote yourself as a musician? Well obviously Facebook & Twitter, but I'm also a big fan of Jango and Reverbnation. Those sites are great because they provide you with really good data on what your fans like, who they think you sound like, best crossover ideas.
6. Do you practice your instrument every day to keep up with current styles and genres? I really try to play or sing every day, yes. I do have some fav genres that I tend to stick to regardless of what is the most popular. Really into The Joy Formidable, Young the Giant, Muse right now!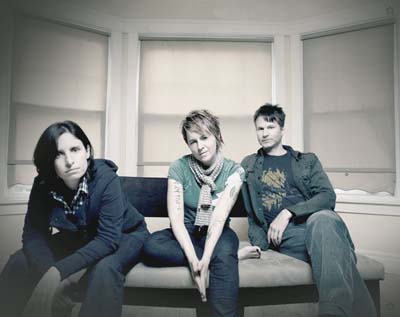 7. What would be some of your main influences? Songwriters from Matthew Sweet to PJ Harvey, sonically Queen, Muse, Pixies (I know I'm all over the map here!).
8. Could you describe what goes on in a day in your life? Well lots of booking and promo work (we book our own shows), so tons of time at the computer. When I write it's either by singing into my iPhone (I like Evernote) or making myself stop the computer stuff and pick up the guitar for at least a few minutes. Reaching out to bands I dig to set up shows.
9. Any upcoming tour dates? Well, as I mentioned we're currently in the studio and working a new drummer in, so our schedule is light. But we're gearing up for a busy fall.
10. Any advice for musicians that are starting in the music industry? Never give up. (and practice to a click track!)
Check out Yvonne Doll Online http://localsrock.com/
Comments
comments