Tod Ashley, frontman for Alternative Rock groups Firewater and Cop Shoot Cop. Interview September 20, 2012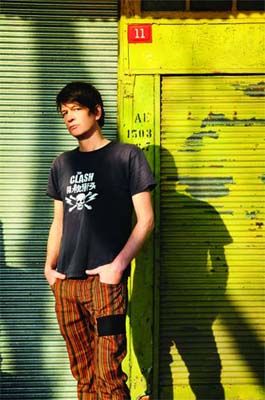 Firewater Interview
Could you tell me about the recording and writing process for Firewater's new album International Orange?
The record was written over the course of three years spent in constant motion – both touring and travelling: mainly through North America, Europe, the Middle East, and South East Asia. When the songs were demoed and ready to fly, we recorded in Istanbul and mixed with Tamir Muskat in Tel Aviv.
What would be some the amplifiers and guitars used in the recording to create the tones?
Guitars: Givson hollowbody (yes, Givson, from India), Fender Jazzmaster. Guitar Amps: Fender Twin, Fender Pro Reverb. Bass: Fender Precision recorded direct into the board through a Universal Audio preamp
How do you manage your time as a musician?
I don't manage my time at all. When I'm writing I don't force it, just mess around When I'm recording or touring I usually work till I drop, then get up and do it again.
What products are you currently endorsing?
Nothing, but we'd love to endorse Orange amplifiers and Tumeric Tonic.
Without Social Media could bands today manage to survive?
Absolutely. But you gotta keep up with the Jones's
What's your vision of the internet for musicians in the future?
I'm really looking forward to affordable hi-fi remote recording in real time. That will change everything
What could we find interesting in your Music collection today?
The Bombay Royale, a Bollywood-surf band from Australia. Figli di Madre Ignota (Sons of Unknown Mothers), a spaghetti-Balkan band from Italy.
Any tours lined up in the near future?
We're touring the US right now. In October and November we'll tour Turkey and the EU.
What other projects could we be seeing from you in the near future?
I'm doing more production these days, which I really enjoy. I just finished a novel called "Banging the Monkey," which will be published in 2013. I will exhibit my photographs of India in Istanbul this fall.
Where do you see Music in 100 years from now?
I'll be dead of course, but I reckon people will still be rocking a century from now
Any words for musicians starting out?
Forget music school: study accounting instead.
Check out Firewater Online http://www.facebook.com/firewatermusic
Comments
comments