Jay Cross Interview, drummer for Canadian Thrash Metal band Mortor. Interview October 1st, 2012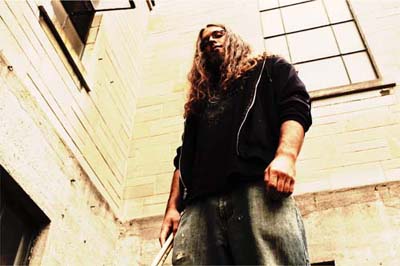 Mortor Interview
1. Could you tell me about the recording of the Mortor album Shoot 'Em Up?
The recording/mixing/mastering process took about one full year, with us showing up at Garage Studios in Montréal in the late summer of 2011. We worked with Mathieu Marcotte (Augury) to lay all the initial tracks down, and then with Christian Donaldson (Cryptopsy, Mythosis) to mix and master everything to sound as heavy as we could get it. Rather than rushing the whole process we took our time and meticulously went through everything, which is why it came out as a polished product that still retained a lot of the organic sounds that you hear today.
2. How did the song writing process work?
The song writing process for Mortor is fairly simple: David will usually sit down and write out ideas, sometimes independently and sometimes with other guys, and then we take these ideas into the jam
spot and smoothen them out and refine the tracks until we're happy with them.
3. What would be some the amplifiers and guitars used in the recording to create the tones?
We tried lots of different amps and guitars, some our own some rented. The majority of the rhythms were recorded with a Gibson Les Paul to get that heavy natural tone, and then we used a few different guitars for the solos – all using Seymour Duncan blackouts.
In terms of amps, we tried a bunch of different things both at the recording and post-production stage (plug-ins and what not). Not sure what we went with in the end of the day, but it was definitely a blend of a few!
4. Are there any tours lineup for Mortor?
We are currently trying to put the details together for a few different things but nothing is set in stone as of yet. The band hasn't yet been down south to the US so in addition to getting out to Canada's east, that's a big plan on the horizon.
5. What's your vision of the internet for musicians in the future?
I think it's pretty great – we've been able to reach a lot more fans because of services like Bandcamp, Soundcloud and of course Facebook, Myspace and all that. If it's helping us get out there, we're happy to be using it. Obviously some people use it to get our music for free, which doesn't help us insofar as providing the necessary money for us to get out on the road more, but it is what it is at the end of the day.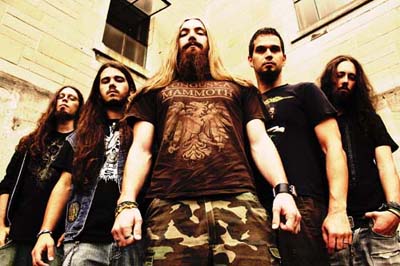 Tons of stuff. For my own part I'm a radio DJ in Ottawa so I have well over 800+ records at home. Right now you'd probably find a lot of the newer 2012 and 2011 releases at the top of my pile, including the new Cattle Decapitation, Misery Index, Gojira, Aborted, Exhumed, Fuck the Facts and Dying Fetus to name a few.
7. What equipment is the band currently endorsing, etc.
None yet haha! That being said, if anyone reading this has some hook-ups, give us a shout!
8. Would you say the health of the Metal scene is becoming stronger worldwide?
It's definitely becoming stronger; the internet in general has definitely helped, as have movies like Global Metal and what not, but to be honest I think it's always been strong. Unlike some genres,
metal fans really tend to be lifers, which is great for the health and sustenance of the scene.
9. What were your earliest influences?
Like a lot of people bands like Slayer, Metallica, Kreator, Death and Cannibal Corpse are all foundational to myself and the other guys.
10. Where do you see Music in 100 years from now?
Hopefully the same way it has always been: continuing on a journey of testing limits and pushing boundaries. Hopefully we aren't all replaced by robots.
Extra Questions for Jay Cross from Mortor
Life without music would be: really, really boring.
Favorite movie: Terminator 2
Favorite sport: Beer pong
Favorite food: Tour pizza that actually tastes good
Favorite drink: Beer and whiskey (sorry bud, can't choose just one!)
Favorite saying: "Turn it up to 11"
Favorite car: Boulay's Durango because it has a DVD player in it, which kicks ass for touring
Favorite book: The Covenant – it's a 2-part epic on the history of South Africa. Really interesting
Favorite band: Right now Misery Index
Star Wars or Star Trek: Star Wars all the way man!
PC or Mac: Mac! 'Cause that's what we do pre-prods on!
Check out Mortor Online http://www.mortor.net/
Comments
comments