Charly Sahona, Guitarist for French Progressive Metal Band Venturia. Interview September 22, 2012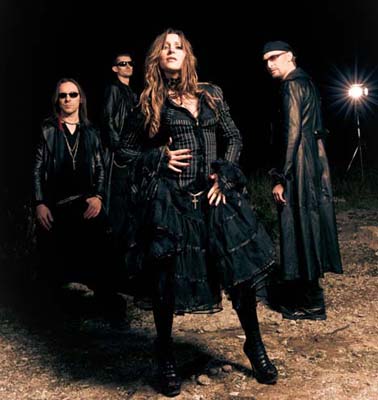 Venturia Interview
1. Could you tell me about the recording and writing process for new Venturia album Dawn of a New Era?
Hi…The writing process of the album began a couple of years ago . For this album, we really wanted to do something more powerful, with shorter songs that the ones on the previous records. We wrote and arranged exciting songs in order to have fun on stage and with the audience. There are all the musical elements of the previous Venturia albums : Heavy 7 strings riffs, beautiful melodies, multi-layered vocals, technical and powerful playing, keyboards…the balance between everything has changed a little bit.
It took some times to record it as former drummer Diego Rapacchietti quit the band. So, we asked a very good friend of us how he would feel to play the drums in Venturia. Before he agreed, we definitely knew he was the perfect guy for the band. And in the end the result was far beyond our expectations, Fred Marchal did an amazing job on drums.
The recording in itself was pretty fast, 2 days for the drums, 2 afternoons for the female vocals. Bass player Thomas and I recorded at home and I used the reamping technique:  the dry signal   of the guitar is recorded at home. When the takes were done, I send the wav files to the studio where the signal was sent into the amps. This way, you take a few hours to record all the guitars of a whole album.
We did the mix with Kevin Codfert at X-Fade studios and I think this is the best production we had so far. We're extremely proud about it .
2. What would be some the influences for this latest album?
Nothing in particular. We did our best to make great melodies, strong riffs and efficient grooves. But if you want some famous names to classify our music, I think that people who like musicianship and bands like Dream Theater, Symphony X will enjoy this album. And if you're into female fronted metal bands like Within Temptation, Lacuna Coil, etc, I guess you'll like our songs too.
3. Where did the name for the album come from?
It comes from the lineup changes we had. We had to split our ways with American singer Marc Ferreira as it was complicated to work with somebody who lives overseas. Then drummer Diego Rapacchietti  decided to join another band from his country, with more gigs than us. In the end, I decided to be the male singer of the band and Frederic Marchal is now the drummer in Venturia. He fits totally with the band.  His playing is rich, technical, versatile and groovy, he did an amazing job on drums. The choice of having him in the band was obvious as he's been friend with the band for a long time now.
Right now, we are all from the same city, we feel closer than ever and extremely excited with the new songs and gigs we'll play.  It's the dawn of a new era for Venturia .
4. What products are you currently endorsing?
I've been playing with Ibanez guitars and Line 6 products for a while now and I feel very happy and proud to be endorsed by the brands I like to play with. I play with 7 strings guitars most of the time. I've always been in love with Ibanez guitars. First because all my idols played on it and then when I began to build my own playing style, I realize that Ibanez guitars were perfect for the things I wanted to play. More, I like the look, the playability, the huge number of different guitars available…
Talking about amplification, I use the Line 6 Vetta 2 combo amp and the Pod HD series. Now I'm using the wireless microphone XD series when I perform on stage. Line 6 products are so amazing, so easy to use, so modern and versatile.
5. Without Social Media could bands today manage to survive?
I don't think so… Music business has definitely changed and its future is now through social media. A decade ago there was no iPod, YouTube, Myspace, Facebook or Apple iTunes store.  Today's music world has entirely new concepts and rules that drive it, with audiences that have a completely different view of music from what they have had in the past.  People expect to get most of the artist information and entertainment for  free. These are the new rules of the game and you have to follow it or I don 't see how a band will survive.
6. What's your vision of the internet for musicians in the future?
Barriers between artists and their audiences have fallen away and I think it's a really good thing. But a decade from now, the industry will be very different than it is today for sure and anyone seeking a career in music will need to learn to adapt and exploit the trends that are shaping the future of the music business.
7. What could we find interesting in your Music collection today?
I'm not a big collector; but if I look for through my old stuff at my parents house, maybe I'll find the  handwritten scores of my very first compositions before I was a teenager.
8. Any tours lined up in the near future?
We're planning to do a French tour and we'll play some festivals for sure . We're really working hard on it . We'll give you some news about it on the social network.
9. What other projects could we be seeing from you in the near future?
After the "dawn of a new era" promotion, I will record my second solo album. The songs are modern rock oriented. It won't be a heavy metal album as the 4 previous albums I recorded have tons of 7 strings heavy riffs. I want to get away from that for a short period of times to refresh my heavy metal inspiration. On this album, I'll focus more on the guitar textures and arrangements. Then I'll work on the next Venturia album I already have new and exciting ideas for !!!!
10. Where do you see Music in 100 years from now?
If someone knows what will happen in 100 years from now, He'll get very famous for sure. Radio, TV and Internet changed the world, people behavior and mainstream music. The next big thing will completely change the story again.
Music has always been part of this world and will last as long as people are alive. Things will change for sure, but the passion for music won't.
11. Any words for musicians starting out?
So many to mention, but here are a few:
Work a lot, be patient, passionate, creative, stay aware, ask for advices to the people you think that will help you,  stay humble, communicate with your audience, think for yourself, be fearless. Please yourself when you're creating, you'll be most effective at the stuff that really excites you. Enjoy the ride and always have fun.
Check out Venturia Online
Comments
comments