Kyle Gamblin, guitarist for Canadian Thrash Metal group Titans Eve. Interview July 10, 2012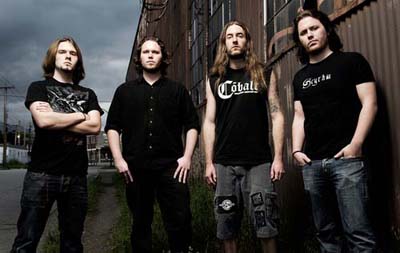 Titans Eve Interview
1. Could you tell me about the recording process for Titans Eve's latest Life Apocalypse album?
Sure, we knew the guy we wanted to record us from the beginning. We went out to Calgary to record with Sacha Laskow (Divinity guitarist) in his Perfect Fifth Studios. We hammered out the whole album in a month, and recorded everyday. It was intense, but we're really happy with the result.
2. Are there any tour dates lined up for this summer?
We've booked a tour with Anvil in late July to early August. After that we've booked another tour with Kill Devil Hill. All the dates are in Canada and we're really looking forward to it.
3. Would you say Social Media Online has changed the Music Industry for the good or the bad?
There are pro's and con's. Its a'lot easier to network, book shows and keep in contact with fans. At the same time its all very impersonal and over saturated.
4. What's your vision on the Internet as a way to releasing Music Online now days?
Releasing music online is great. On an indie level you don't really have to worry about piracy. We've been able to reach people and sell albums all over the world. It makes music very accessible.
5. With all the bands coming out today. Do you keep updated with what comes out online at all?
Definitely, social media keeps everyone up to date on new releases. If you don't know about it the band needs to improve their promoting.
6. What could we find interesting in your music collection at home?
I listen to classical music almost as much as metal. Tchaikovsky, Kurt Atterberg and music scores are regularly played on my Itunes.
7. Could you describe what goes on in a day in your life?
I work during the day, then jam by night. Pretty boring.
8. How is the Music scene in your area today?
Its getting better. Vancouver has lots of awesome bands. We really just need one really good music venue.
9. Any words for future musicians?
Book you're own tours, don't cheapen out or cut corners when recording, and always be honest with you're music.
Check out Titans Eve Online http://www.titanseve.com/
Check out Titans Eve new song Destined to Die http://www.youtube.com/watch?v=wLgJwMlikf8
Comments
comments