Pacific Radio's music genre Rock and Roll
Location – Hollywood, California
Members – Joe Robinson:  Guitar and Lead Vocal, Joe Stiteler:  Bass, Kyle Biane:  Guitar, Hyke Shirinian:  Drums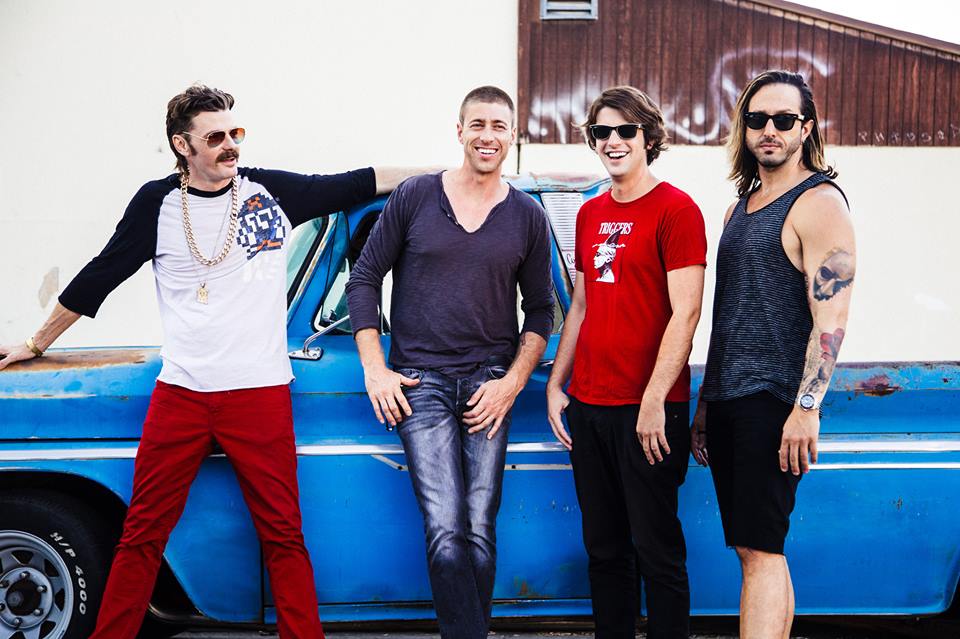 Pacific Radio Interview
– What's new in the world of Pacific Radio?
KB: We are spending a lot of time in the studio working on the record at the moment. We were excited to announce our spot on the 2017 Bottlerock Napa festival as well. Looking forward to a summer tour to go along with that.
JR: I got a laser for my birthday, take that Calvin Harris.
– How was it recording your EP Kitchen Table?
HS: We're all friends and get along real well which makes the process super fun and easy. Our bond as a band enables us to feel free when it comes to our creativity.
JR: It took a dude named, Eric Weaver, to get us running straight. He is producing, mixing, engineering and also our therapist at times. Talented fella. It took us all a little time learning the DIY way but we're in the pocket now.
– How do you build a song up from nothing to become something?
JR: I write a melody and live with it for a while before I bring it to the band. I'll quickly record it and play it constantly, play guitars over it, sing, have it in a constant loop and after a few days if I'm not still excited I'll put it away for a while. Sometimes a long while. Kitchen Table was written in 2002 and I shelved it until Joe S came up with a bassline 9 years later and I was like, "I have a song that'll work with".
KB: Details details details. Our singer typically has the words and chords, then we just put our nose to the grindstone and try to find the best arrangement and space for the tune. We try everything, if we think that there might be a spot for a kazoo, we will go buy every kazoo we can find till we get a unique sound we are looking for. Then on the same hand, we have no problem ditching ideas that end up not fitting.
HS: With a lot of trial and error and most importantly.. patience
JS: You start at the beginning with snacks in your satchel and pain in your heart then set about your voyage amidst wolves and spears until you find your oasis and dive a dagger to the chest of your foe. Then you put it on Spotify and iTunes.
– Do you have any tours coming up in the near future?
JR: San Francisco and Napa in February to butter them up for a Bottlerock after show.
KB: We will be playing a few shows in Austin this March, then towards the end of May we have a west coast run.
JS: I was planning on hitting up the Los Angeles County Museum of Art this week for the Mayan Ceramic exhibit.
– Could you describe what goes on in a day in your life as a musician on tour?
KB: Coffee, red bull, sunflower seeds and beef jerky. Sleep whenever you can, play a show, repeat.
JS: I don't normally smoke, but I insist on it when on tour, as much as possible. And I'm not talking about a vape pen either… Sometimes I eat too, mostly chips and sunflower seeds; if the tour van doesn't smell funky by the time we get back home, we didn't do our job very well, did we.
JR: My friend once called a vape pen a "mouth fedora" and I almost peed, then her friend said "face crocs" and I peed, a lot…Conversations like that in cars with shows in between is basically tour.
– What would be some of your main musical influences today?
KB: The old classics never went away for me, in the studio I think about Brian Wilson a lot. For guitar I really like Nels Cline, David Gilmour and Jonny Greenwood to name a few.
JS: Our musical tastes vary I'd say. In fact, we probably couldn't agree on very many artists that we all like – and that's the beauty of making music with these guys. This collage of influence and flavor allows a Bob Ross-like portrait of serenity and truth, yet still has the sonic razor-teeth to cut through a tin can.
– Is the band fans of Spotify and similar streaming services? What are your thoughts on this?
KB: It is how things are right now. I don't think artists are being compensated as much as they should be, but until things develop more, I guess we are stuck with it.
JR: It's great for quick exposure but terrible for humans, who need to eat food, which involves money.
– Making videos must be a lot of work and still fun to do. How do you look at it?
KB: They are fun. I love the collaboration process of taking a song we have ripped apart in the studio and handing it to people that are as obsessed with the visual realm as I am with the audio. By the end though, I am ready for it to be over and go back to playing music.
HS: The video making process was a blast. Our vid of "Kitchen Table" took two days of shooting. I remember walking into rehearsal the day after our 2 day shoot; we were all sore, fatigued, and exhausted but..we all had a smile on. It was one of the most fun experiences we had been through as a band.
JS: Making the "Kitchen Table" video kicked the ever-loving shit outta me. We did it in back-to-back days, both about 15 hours, and Day 2 was ALL performance; and we had to go all out for that. The following day, we had our first ever seated rehearsal, because we couldn't bare to stand. We sat and strummed with our mics in front of us like VH1 Storytellers.
– Any words of wisdom to share with aspiring artists?
KB: Don't quit…
HS: We're not really wiser than anyone else. Just a group of dudes that work hard and love music
JS: I'd say we are wiser than most, but only because we've made more mistakes than most. We've stuck it out longer than most….which maybe makes us dumber than most, so forget that part about being wiser. So I guess the message is to 'just keep on pushing' ('Camaro' by Pacific Radio, 2017), and remember that rock and roll has your back. And so do we.
https://www.pacificradioband.com/
https://www.facebook.com/pacificradioband/
Comments
comments