Interview with Singer Songwriter, Adult Contemporary, Folk and Pop artist Jay Elle.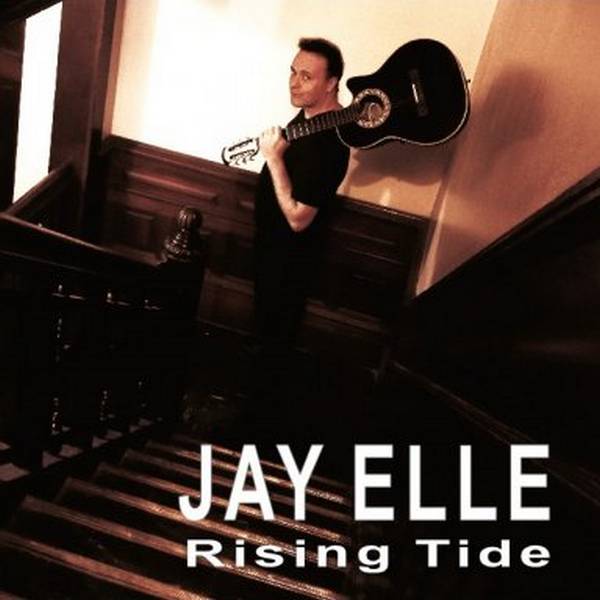 – What's new in the world of Jay Elle?
Thank you for asking.
Lots of exciting things are going on. First, Rising Tide, my debut EP, was released last December by Star1 Records.
I am so excited about the opportunity to have my songs made available to audiences around the world. A lot of work went into making this record.
Laura Patterson heads the Star1 label. She is truly amazing. She has great instincts and really understands how artists think and feel and what they go through.
She has assembled an incredible team and they are all working really hard. College radios are playing the songs, reviewers are writing about the EP. Close to a dozen radio interviews have been lined up thus far. It's very impressive. Great team work.
I am meeting lots of new people. Music lovers. It's fantastic.
I have been working on new songs as well. And of course I am rehearsing for upcoming shows.
– How was it recording your EP Rising Tide?
It was a lot of fun. Everyone involved put a 100% into it. I was lucky I could get my friends to join in and play on the songs. They're all great guys and ladies.
I love albums where you get a variety of sounds and styles. So it was important to me to have both a great live vibe and also some intimate moments.
Rising Tide has the acoustic guitar pieces I love as well as the more edgy, rocking songs. It is exactly what I was hoping to present to listeners as a first EP.
– When writing a song, is there such a thing as investing too much time?
Great question. In my case the song dictates everything. And I do my best to listen and go along with it. In fact I don't feel like I have a choice.
It's like the song has a personality of its own, its own life energy if you will. That may sound a little "nutty."
What I'm trying to say is that as long as I keep hearing "not ready" in my head, I have to keep at it. And it can go on for a long time in some cases. I can't figure out what is either missing or needs to be taken out. I keep playing what I have over and over and eventually it comes together.
I met a D.J. when I started in the music business and after he listened to a few tracks he said "If it is that good why isn't it better?" I am not sure what he meant but I never forgot what he said and until I am satisfied that the song is where it needs to be I keep at it.
I still hope that one day I will just pick up my guitar and both the music and lyrics will come out, first draft, and that's it. I'm done. I am very hopeful and optimistic that way, but it usually takes me quite a bit of time.
– Do you consider album artwork as important now that music is mostly downloaded?
Great question. My short answer is "yes." I don't demand a museum piece though. Don't take me wrong.
I understand that when there was no Internet or music videos, album artwork was the main way to have a close look at a band or artists and possibly get a feel for what the music was about. That is until you could go to a live performance or more pictures appeared in magazines.
Music videos changed that and yet we didn't see records or CD covers turn to blank pages for the most part with the artist or band's names, a song list, the record company name, and a copyright logo.
Now that there is no limit to what an artist or a band can post on the Internet, pictures or videos, I am not aware that anyone is settling for no album artwork. It is still important.
Leaving out the advice from the "marketing gurus" that branding should be everywhere, so I hear, I love the idea of having at least one picture or some album artwork that gives me a sense of who the artist is. It's part of getting to know him or her.
Is it tradition or just simply the need to satisfy basic human curiosity? I think it's the latter. I think it its important regardless of how the music is made available to us.
– Do you have any tours coming up in the near future?
We are working on lining up shows. We have not finalized where and when just yet. I am working on new songs and I would like to have a full album completed before starting a tour.
– Could you describe some of your earliest influences in life and in music?
My cousin played a little bit of guitar so I got a chance to play early on. Then in high school a few of my friends thought it would be cool to start a band. I listened to a lot of music then, different styles. My focused was on guitar playing initially and then singing and writing songs.
I admire anyone who writes well-crafted songs from Cole Porter to many contemporary writers you hear on the radio today, in all genre. Of course, I have my preferences, writers who combine lyrics and music in a very unique way, and happen to be amazing musicians and singers, some of which are now classics: Billy Joel, Freddie Mercury, Paul McCartney, Sting…etc.
By the way, I am a big fan of Billy Idol, B.B. King, Snoop Dogg, Eminem, Katy Perry, Elvis Presley, Pink, Avril Lavigne, Celine Dion, Selena Gomez, Justin Bieber, Pat Benatar, Eric Clapton, Jay Z, Beyoncé, etc… so the list is quite long and eclectic. Add to that classical composers like Bach, Chopin and Liszt, to name only a few, and the list of influences becomes endless.
– Are you a fan of Spotify and similar streaming services? What are your thoughts on this?
I favor every possible ways of making music easily available to listeners around the world. If there is a second universal language, beside love, it would be music, in my humble opinion.
Bringing people together through songs and music is a fantastic opportunity to "make the world a better place." That may sound a bit idealistic of course. But when you see at what speed messages are passed around, thanks to today's technology, we should look forward to more music being heard by more people around the world. Hopefully, that will quiet down some of the unpleasant rhetoric that's flying around. Granted, not all lyrics are worthy of that much popularity.
Of course companies like Apple Music have business models that have financial implications for the artists. I am not sure anyone has been able to catch up with that challenge in a way that is fair to everyone involved. Let's hope that with time a fair balance will be put in place. We need money to write, record and produce music. There is no way around it.
– In your opinion, which album would be essential to have if someone were stranded on a deserted island?
It really is a great question.
I might want to ask what kind of deserted island is offering the option to bring albums: are we talking vinyls, CDs? Can I recommend a mash of my all times favorite songs, MP3s?
Sticking to the albums though I would say don't end up on a deserted island without
– Jazz, Queen
– The Stranger, Billy Joel
– The Slim Shady LP, Eminem
– Back in Black, AC/DC
– Jagged Little Pill, Alanis Morissette
– Chopin Nocturnes, Arthur Rubinstein
– Malice n Wonderland, Snoop Dogg
– Billy Idol, Billy Idol
– EC was Here, Eric Clapton
– Teenage Dream, Katy Perry
– Greatest Hits… So far!!! Pink
– Franz Liszt Greatest Hits, Various
– Oh! And I will take my EP too… and my guitar of course.
Thank you for the opportunity and the very interesting list of questions.
http://www.jayelle222.com/
https://twitter.com/jayelle2222
https://www.facebook.com/jayelle2222
https://www.instagram.com/jayelle2222/
Comments
comments