Deep Purple Rocks Halifax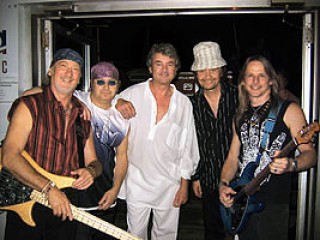 February 5, 2012 Deep Purple: The Songs That Built Rock Tour
Deep Purple took the stage at 8:30 pm Sunday evening at the Halifax Metro Centre with roughly 4500 in attendance. They opened with the ultimate opener "Highway Star". The sound was very exciting, certainly with Don Airey's keyboards solos. Don Airey is a former Ozzy Osbourne keyboardist which played on the album "Blizzard Of Ozz" along with the legendary guitarist Randy Rhoads and has been playing with Deep Purple since 2002. Ian Gillan's voice was in great form and did not have any difficulties in reaching the high notes. Ian Paice and Roger Glover played great as always. Steve Morse the bands guitarist whose been playing with Deep Purple since 1994 carried out a great guitar tone through his guitar amps as well as matching the solos pretty precisely. Deep Purple has been going on strong for 44 years now and it seems there is no stopping them when they get on the stage. The opening act was Halifax's band Gloryhound.
Deep Purple Halifax
Deep Purple: The Songs That Built Rock Tour Started the North American leg of the tour in St. John's, Newfoundlandand Labradorand will go until the 26th of February in Vancouver, British Colombia. In October they will continue to Russia.
For your knowledge Deep Purple was once listed in the Guinness Book of World Records as being the loudest pop group. Deep Purple has sold over 100 Million albums Worldwide.
Comments
comments