Daniele Liverani, Hard Rock Shred Guitarist. Interview September 30th, 2012
Daniele Liverani Interview
1. Could you tell me about the recording and writing process for your new album Eleven Mysteries?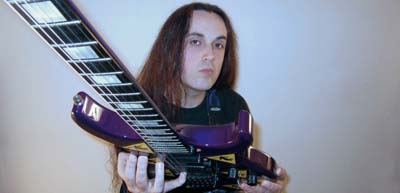 D: I wrote all the songs except one song for this new album, which is Giving, that has been written by keyboardist Marco Zago. I've always loved to compose my music having a sort of total control for my solo projects, since they are a true window to my personal expression of course, but this time Marco offered a very cool song that fitted perfectly on the conceptual journey of the album, so it was a pleasure to include it in the track list. I usually write my songs alone and I do a pre production of them where you can already hear all the structure and the basic arrangements, and then I use this first version to illustrate the songs to the other musicians involved, so that they can learn the songs and come up with their arrangements. The songs sometimes are generated by a riff, sometimes by a
melody, or sometimes even by a general mood that I need for the particular moment of the story or concept I'm trying to depict. I also write music on paper directly at times, without having the influence of a particular instrument that can lead the writing process to something more oriented to the instrument than the real needing of what I'm trying to describe musically. Eleven Mysteries, in particular, is a conceptual instrumental album that is Inspired from humain spirituality and all the mysteries that are surrounding our existence. The concept behind "Eleven Mysteries" album came out from many reading and analysis I did recently on various books and arguments that I approached regarding life. I'm talking about philosophy books, ancient and modern, books about
ancient civilizations, mysterious stories about glorious civilizations of the past, and different great writers and philosopher of many cultures, both in astoical perspective or narrative perspective. I extracted from these readings some of the basic and most interesting concepts that jumped to my attention regarding life approach, life principles and spiritual concepts, and I tried to organize them in a musical journey that runs through all of them and it turned out into these 11 musical mysteries album. All the songs are about some of the most important moments and aspects of our life, all the experiences that all we are going through during our life time and the mysterious aspects that are often hidden behind these experiences, choices, life styles and life events. From these experiences we all are able to learn a a lot, and possibly express these experience to others, using art for example, like music. That's the main aim of the concept of this album basically, an attempt to express and share some of the most interesting and mysterious concept I ran through my latest reading and researches, trying to transform them in music that could express the feeling of those messages. The recording process took a long time I have to say, it tool almost two years overall. First I did all the pre production experience with the musician involved, and then I approached the final production. The musicians involved in this album are all young talent I discovered lately, through the net mostly, except keyboard player Marco Zago which a very talented keyboard player that lives in a town near to mine in north Italy. Drums has been handled by Paco Barilla', he's from south Italy, and he's an impressive talented drummer at his young age. Bass player is Tony Dickinson from Colorado USA, he's also an impressive bass player that really added a great push to the album. You can check the youtube channel of these musicians to get an idea of their great talent. I took care also of the mix and master for this release, which has been a great work indeed, but in the end I'm very satisfied with the result. Guitar recording process is always a challenge, but I tend to use a simple set up lately. I've been experimenting with big guitar rigs through all the years and the albums, but now I've come back to a Marshal amp, low amount of distortion, AKG 414 with a proper low end cut placed on the side of the speaker cone, and my Carvin guitars. Most of the album has been played with my old 1993 Carvin model, but for some tracks I used also a customized old Washburn Ec29 (29 frets model of the late 80s), an Hamer California, and I Custom Ibanez RG.
2. What would be some the influences presented in this latest work?
D:My influences goes back to the classics first, being a piano player since I was a child, I approached all the classics since I was 7 years old. As for influences that lead me to the music I'm doing today I would mention of course the great guitar players that really gave me the birth speaking of guitar oriented music: Jason Becker, Yngwie Malmsteen, Steve Vai, Van Halen, Satriani, Paul Gilbert on top of all other great guitarists that influenced me. You can hear, even in my guitar solo album, also a lot of influences from the Progressive side like Genesis, Rush, Kansas, Dream Theater. Those bands had a huge impact on my way of making music I'd say. I would also mention Frank Zappa for some aspect, even if my music is not that complicated and experimental I think.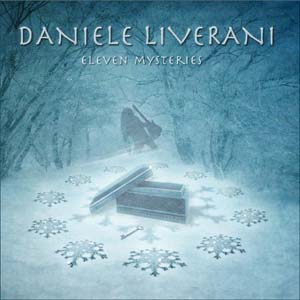 3. How do you manage your time as a musician?
D:Managing time is essential I think if you want to reach goals. As a musician I try to manage my time in the most intelligent and productive way. I try to rehearse with a good continuity to keep my hands flowing when I need them to be ready to go, and I try to keep also my production knowledge updated, to  have the change to be able to record and produce in the proper way my music. I think it's 50% split between these 2 aspects. Also dedicate some time to promotion, networking and these
type of stuffs which are important too, but with the facilities that internet is providing to connect people, music operator, journalists etc, you really must be aware of not staying all day in making networking and chatting with people around the world trying to promote your music, but at the same time losing the contact with the real essence of playing your instrument, making music and
producing it properly.
4. What products are you currently endorsing?
D:I've been a huge lover of Carvin guitars since early nineties and I've been endorsing then for a couple of years back in the mid 2000 during the Genius Rock Opera Releases, but now I'm not working with any company at the moment. I get asked from time to time to collaborate with guitar constructors or amps etc, but, you know, I'm really focusing on what I'm doing musically, and I prefer to keep the music production in the center of my activities and dedicate all my time to this aspect.
5. Without Social Media could bands today manage to survive?
D:I think that social media created a new way of gaining fast success, but it's still for a few people that did it and had the luck in some way to reach high amount of audience via Youtube and similar situations. Survive is a very enigmatic question when you're talking about a band or a musician…anybody can say what's gonna happen in the future of a band I think…so many variables can be affecting the path of a band. I think that social media can surely help a band to survive, but you must have something interesting to offer, otherwise even social media won't help. Of course if you ask me social media are important nowadays for bands and artist, both established one and new comer, I answer yes. Could the manage to survive without social media? I think the answer is probably no, but as I said you also need an interesting offer to survive, despite of being on social media or not.
6. What's your vision of the internet for musicians in the future?
D:I think internet is the future. It's also the present already I'd say. Internet has been a revolution in many senses for music at all level. Musicians of the future will take more advantage from the possibility to expose their music to an always constantly growing audience in the internet. I'm not saying that everything is fine with this virtual way of living and approaching promotion, but you know, that's the way it is today and will be even more in the future. I personally miss a lot the real interaction that was typical in the 80s and 90s, that I lived when I was a teenager, but nowadays you must be in the net if you want to be in the scene, that's where almost every aspect of life is moving. It's interesting and also scaring at times…but this is the reality.
7.  What could we find interesting in your Music collection today?
D:I listen to almost all types of music, except Modern Dance music I'd say. I really love to listen to classics, since It's from there that I'm actually coming, and so you'll find a lot of classics from Paganini, Mozart, Beethoven, List and many others in my personal music collection. I listen to a lot of guitar oriented stuff as well, like Steve Vai, Paul Gilbert, Satriani, Jason Becker, and all the Mike Varney era guitarists in General. I think that particular period was really magic, so many great guitar players came out from Varney's label and still are the best nowadays in my opinion. I also listen to a lot of Prog rock and metal of course, I'm very passionate about Dream Theater, Genesis, Rush, King Crimson, Kanas and all similar bands. Lately I've been digging a lot the new Van Halen album with David on vocals…as a huge fan of the early days of the band, it was a nice come back.
8. Any tours lined up in the near future?
D:I'm working on it but there's nothing planned yet. Hopefully something will arise soon, I really would go on the road playing guitars again after a lot of years of keyboards.
9. What other projects could we be seeing from you in the near future?
D:Well, I'll be working on new guitar albums for sure, it's been a great come back for me that is giving a lot of fun and positive energy to my music. I've been playing keys for the last 7 years with my projects Twinspirits, Cosmics, Khymera, Prime Suspect, and it's been a hell of a ride, very nice experiences, but now now I really feel I have a lot to say with this magic instrument which is called guitar. So you can expect for sure other albums guitar oriented in the near future. I'm also working on a new conceptual saga, something that can be compared to the Genius Rock Opera I released in the past, but with a very different argument in terms of story and content, but it's too early to disclose any particular about this.
10. Where do you see Music in 100 years from now?
D:Well, Well, 100 years? It's a long period of time…I think that music will survive forever, this is my personal belief, what's going to be interesting is where music business will go from here to 100 years to come. I think that some new form to distribute music will be invented, and I think that also new music styles will be invented of course. What I see for the future is a very large amount of musicians producing music at their self home studios and handling completely their publishing process, I think that self production will be very popular in the future, and this will cause a lot of changes in the music bushiness, it will be very different i think.
11. Any words for musicians starting out?
D:Passion and dedication is the key, then of course you have to be listened from an audience, and it's important to be in the scene and let our expression being heard, but first of all you must have something to offer and you must build a personality and a style to be recognized with, and for this Passion and dedication are the most important things that can lead you to a result. Also I would say take the whole process step by step and fix some marker point in your career. Don't be too much critic with yourself, and don't fear to get out and let your music being heard, thinking that you could do better. Everything in life must be taken step by step, and so is the musical growth process.
Check out Daniele Liverani Online http://www.danieleliverani.com/
Comments
comments