Interview with Eric Gustafson of Adoration Destroyed.
What's new in the world of Adoration Destroyed ?
Hey! Thanks for having us for this piece. Well, we just got off tour in late November, so that was rad, as well as debut Album in Sept 2016.
The plan now is to keep the momentum going with a new Digital Single, and music videos/ remixes.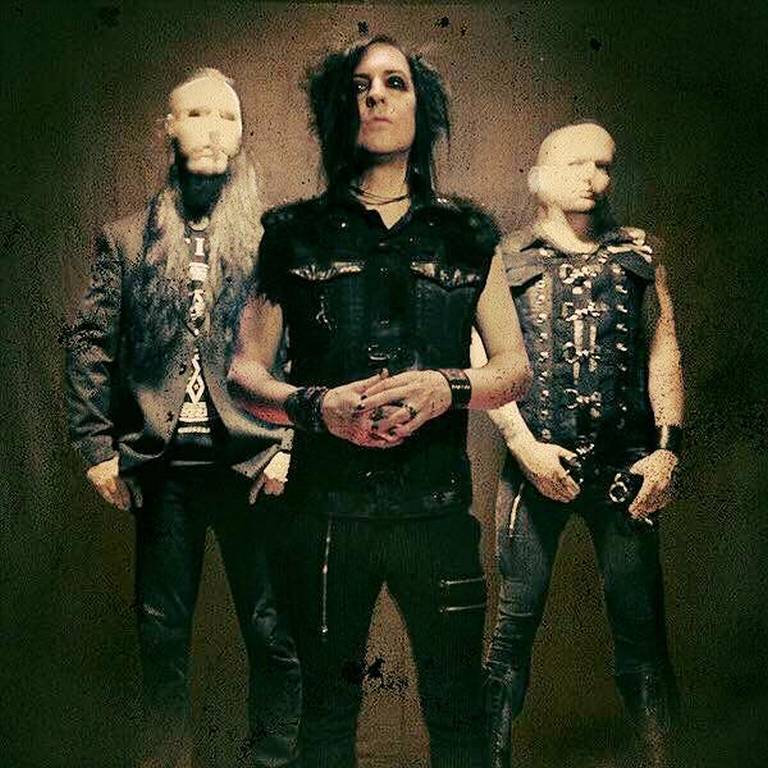 How was it recording your album Ritual Damage?
It was a liberating and cathartic experience. I'd held in a LOT of emotional damage, fucked up experiences/hurt and other BS throughout the years. Some of that came out in the music and generally became the theme of the band. Fiction added however, this is not my diary…;)
How did you go about making the artwork?
Thank you for noticing! It often seems that the artwork of an album is a slowly dying art.
I've worked with Art Designer Martin Mccreadie for years, on other projects, so he was a natural go-to. As far as the theme, I wanted something mystical, dark etc. He came up with the idea of 1920's-era witch/charlatanism/ tarot/ seer-type stuff, and a bronze patina theme, and I loved it.
Do you consider album artwork as important now that music is mostly downloaded?
Yes I definitely do. It's super important to have a consistent them throughout all promotions; be it hard copy CD, merch, and carrying that over into your Instagram posts, Facebook headers, twitter and all of that now-necessary stuff. You've gotta be a master of it all these days, or have really talented friends!
What is the strangest inspiration you've ever had for a song?
I love this question. Usually the lyrical inspiration comes in weird-ass fragmented ways.
I don't know how I fit in the passing of a beloved dog, crazy-ass ex girlfriend, existential introspective, self-critical questions, and and dual-personality paranoia into one song, but I did it! And, i'm not telling which one, hehe.
Do you have any tours coming up in the near future?
We might have a 2nd leg of our previous tour with Ego Likeness (Metropolis Records) happing later this year, but not sure. We love those guys/(and gal!)
Could you describe some of your earliest influences in life and in music?
I am very influenced by the music of the 80's! I loved that music because everything goes. back in the 80's on MTV, you'd see Duran Duran, then Motley Crue, then Journey, then Rush, then The Cars, Gary Numan, etc. No genre separations, just a party with all good music.
After that of course I played in Punk bands, then Death metal bands before finally settling into oGoth/Industrial-world later in life. I've always dug anything electronic and still do keep up with a lot of current electronic as well as pop music.
Is the band fans of Spotify and similar streaming services? What are your thoughts on this?
I love Spotify! its awesome as a way to get people into your music and see related bands, as well as a good way for listeners to FIND new music. I know many DJs that find whole sets just coming through Spotify (Shoutout to DJ Miserymachine, my lovely Girlfriend!)
In your opinion, which album would be essential to have if someone were stranded on a deserted island?
Oh man, that's a tough one. for me, it would actually be the "Queen of the Damned" movie soundtrack. But on a more broad theme, a movie soundtrack with a variety of songs is best!
Where do you see music in general going in 100 years from now?
I see music being led by the technology which is used to create, and distribute it.
Direct neural-implant streaming specifically. I'm calling it right now!
https://www.facebook.com/AdorationDestroyed/
Scott Wilson Interview: Saving Abel (July 2017)
Kaleido Interview, CHRISTINA CHRISS Detroit Rock Band
Comments
comments