Interview with The New Electric's drummer Adam Casey. The New Electric had an exciting 2016, winning "Group of the Year" at the First Annual YYC Awards in Calgary, opening nation-wide for Backstreet Boy Nick Carter and releasing their debut EP Living Loud. The New Electric are also excited to bring new music with a single slated for release at the end of March.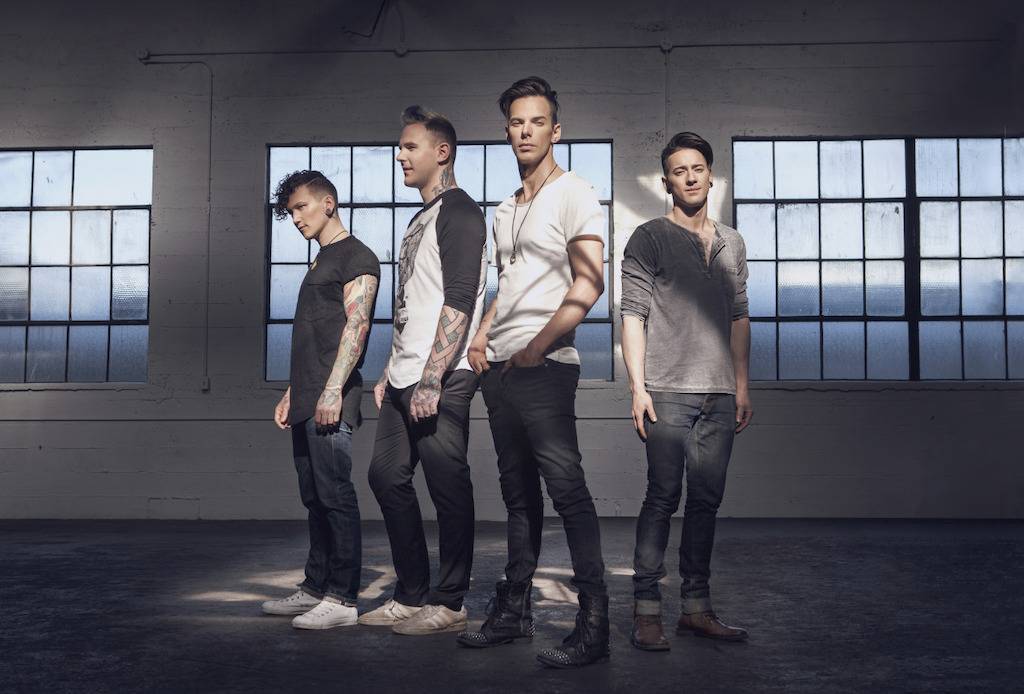 Q: What's new in the world of The New Electric?
A: A lot is new in our world! We've just released our new single "T-Shirt", and we're about to embark on a cross-Canada tour with Courage My Love. For this tour, we've worked up a new live set to share with everyone who comes out, we've got new merch, and we also have a new website at www.thenewelectricmusic.com!
Q: How was it recording your new single "T-Shirt"?
A: It was an amazing experience! We spent a week in a really cool condo in downtown Vancouver, just hanging out and gathering inspiration while we worked in the studio with Ryan Stewart. It felt like a really synergistic effort because Ryan wanted to incorporate everyone's musical ideas and playing styles. I think what came out of it is a great song with a great story that we all put our hearts and souls into.
Q: How do you build a song up from nothing to become something?
A: Usually a song will start with a lyrical hook, and it just slowly starts expanding from there. With more lyrics and some simple chords on an acoustic guitar, the song structure is finalized. After that, we'll begin working on the computer to produce a demo of the song and that's really where it starts to take on its identity as a TNE track. Of course, there are many songs written that don't make it that far!
Q: Do you consider album artwork as important now that music is mostly downloaded?
A: Being that I'm a very visual and tactile person, I absolutely think it's as important, if not more important than it used to be! Artists have to imply a physical quality through a digital screen. In the online world, getting that 'click' relies on an eye-catching image.
Q: Tell us about your tour with Courage My Love!
A: I've been listening to CML for a while now, so I'm really pumped to share the stage and hang out with them! Our last tour was in November with Nick Carter, so The New Electric is really excited to be on the road again. The four of us get along really well, even under stressful situations, and you know what, being on tour is what makes us feel alive and whole. As well, we have some fresh surprises in our live show, and we're touring to some cities we haven't played yet, like Ottawa and Montreal!
Q: How is the music scene in your area these days? Are clubs still popular?
A: Since the whole Internet revolution, I think local music scenes everywhere have diversified into more niches, which is really cool. It's those little communities that give people a place to belong, and it's inspiring seeing members of those communities work together. So yes, clubs are still popular, but in Calgary there are little pockets of culture thriving everywhere you look!
Q: Is the band fans of Spotify and similar streaming services? What are your thoughts on this?
A: Yes, we all use Spotify and Apple Music daily! I've been all for streaming since it came to Canada. I think it's brilliant for anyone with a voracious appetite for new music. We are active on Spotify and have a bunch of playlists our fans can check out to hear some of our favourite artists!
Q: Without social media could bands today manage to survive?
A: I think very well-established bands could possibly survive without social media, but to flip the question a bit, there's a very slim chance of a band establishing itself without it, especially at a national level. The ability to connect directly to our fans is extremely important to us, because without them we would not be where we are today.
Q: In your opinion, which album would be essential to have if someone were stranded on a deserted island?
A: Abbey Road, I think it would keep you happy and hopeful about life!
Q: Where do you see music in general going in 30 years from now?
A: From a simple standpoint, I don't think much will change — there will always be musicians, the art they create, and people who appreciate that art.
Interviews related
Comments
comments