Erodelia, Hard Rock Brazilian band. Interview August 8, 2012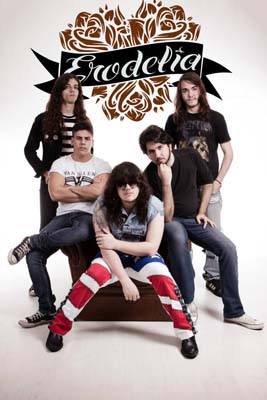 Erodelia Interview
Dell – Vocals, Heittor Ribeiro – Drums, Maurício Teles – Bass, Vitor Maia – Guitar, Danilove – Guitar
1. Could you tell me about the history of Erodelia and recordings?
(Dell – Vocals) The band started in 2010, with me as a singer and rhythm guitar, Ariel Quintela on guitar, Mauricio Teles on Bass, and Diego Azama on drums. Later that year, we recorded our first EP "Me segura, neném" containing 6 tracks "Sabadanoite", "Mulher Perfeita", "Seu Beijo", "Vicio", "Garota Demais" and "Esperar por Você". In the beginning of 2011, two new singles were released apart from the EP, they were "Ela" and "Vem me Encontrar". In July of that same year, Ariel quit the band and was replaced by Vitor Maia, not much longer Danilo (Danilove) joins the band as rhythm guitar, so I would only do the singing. By the end of 2011 we recorded a new single, "Despedida de Donzela", which would be Diego's last job with us, since he announced that he had to quit the band. We had Heittor Ribeiro to take his place in the drums and have been this formation until now.
2. What's the plans for 2012?
(Danilove – guitar) We are planning on going on studio to record two new singles and maybe release a CD with those new songs and all the others we already have recorded. We intend to expand our influence to other parts of Brazil and (I hope) the world.
3. How is the Music scene in your area?
(Vitor Maia – lead guitar) We live in a city where the Rock n' Roll scene is very weak, the bands that appear are very few, but wins in quality, not in quantity.
4. What is the band endorsing for equipment?
(Heittor – drums) We don't own any equipment, except for our own instruments, we usually use the house's equipment when we play, and when it's needed we rent a guitar amplifier, since Brazil has the highest prices for this kind of equipment. It would be nice if someone were willing to sponsor us.
5. Any tours coming soon?
(Mauricio – Bass) Yes, we have been growing a lot, enough to start a tour in nearby areas, but we have difficult to start a national tour due to the size of the country.
(Dell – Vocals) We wish we can eventually start a world tour, to show the world that Brazilian Rock is also of good quality.
6. What do you think of the music industry today and where it is going?
(Vitor Maia – lead guitar) The music industry nowadays is crap, because there is public to sell those shit artists that loads up the media, of course there are good artists that have great songs but with little recognition.
(Dell – vocals) As to where this is going, I believe that quality always prevails, so the bands that actually care about making a good work will find their way to the top. What we are experiencing now it's only a bad phase, so a couple of years from now we will probably have a more pleasant situation.
7. What could we find interesting in your music collection at home?
(Danilove – guitar) The members doesn't have a very different music taste, in general it's usual to find us listening to classical rock like AC/DC, Kiss, Rolling Stones, Black Sabbath, but there is other influences like 80's new wave (Tears for Fears, B-52', Devo), heavy metal (Iron Maiden, Judas Priest, Cauldron)  hard rock (Guns N' Roses, Whitesnake). There are some relatively new bands we also like, as The Darkness, Rival Sons, Kings of Leon and White Stripes.

8. Could you describe what goes on in a day in your life as a musician?
(Dell – Vocals) We are always thinking about the band at all times, we rehearse in a very regular schedule, and we always get together to compose new songs, deciding what we're going to play in concerts, always having our creative side sharpened.
(Danilove – guitar) Our daily lives are very normal, some of us have side jobs to get extra cash, and we are always promoting stuff in our facebook fanpage, so we can get people's attention.
9. Would you say the health of the Music scene is coming stronger?
(Dell – vocals) Yes, we believe that every time the good musicians are suppressed by the music media, the will to do a better job grows each day, which will heal the music scene in a future not so far from now.
10. Any words for future musicians?
(Dell – vocals) Never sell out, seek quality and believe in what you do, no matter what other people say, because your ideas will probably be better than theirs.
Check out Erodelia Online here
Twitter: https://twitter.com/erodelia
Youtube: http://www.youtube.com/user/erodelia
Comments
comments