The Great Kat Interview with Katherine Thomas, virtuoso violinist and guitarist. Interviewed by Jason Saulnier January 24, 2012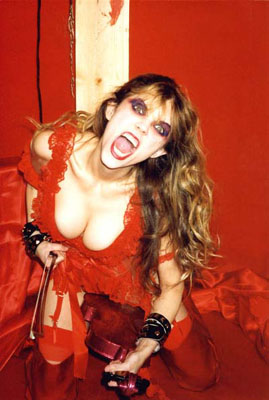 The Great Kat Interview
1. How is 2012 starting off for you Kat?
Answer:
BRILLIANT!!! THE GREAT KAT'S NEW MASTERPIECE "BEETHOVEN SHREDS" CD IS OUT NOW!!!!!
The Great Kat Guitar Goddess is:
"Top 10 Fastest Shredders Of All Time" (Guitar One Magazine)
"The 100 Wildest Guitar Heroes" (Classic Rock Magazine)
"Top-10 Fastest Guitarists Of All Time" – (Guitar World Magazine's Readers' Poll)
"12 Greatest Female Electric Guitarists" (Elle Magazine)
Juilliard graduate violin virtuoso/Carnegie Recital Hall Violin Soloist
2. Can you tell me about the process behind the recording of the latest Great Kat album Beethoven Shreds?
Answer:
The Great Kat's "Beethoven Shreds" CD is a multi-layered, contrapuntal Metal-Classical recording, played at incredibly high-speeds by the famous Juilliard graduate violinist – turned guitar shredder The Great Kat. ONLY TRUE GENIUSES will understand this MASTERPIECE CD!!!!!!!
NOW Check out music clips from the NEW Great Kat CD "BEETHOVEN SHREDS" at http://www.greatkat.com/beethovenshreds/beethovenshreds.html
"Beethoven Shreds" CD Features:
PLUS MORE!
ATTENTION INTERNATIONAL KAT FANS/SLAVES/THRASHERS:
The Great Kat's "BEETHOVEN SHREDS" CD is now out worldwide!!!
"Beethoven Shreds" CD is now internationally available at major retailers and online stores in U.S., Canada, Australia, Japan, Europe (Germany – Cargo Records, U.K. – Wienerworld, Scandinavia – Borders Music, Italy – Goodfellas), China, and more, as well as on iTunes!!!!!
"BEETHOVEN SHREDS" is available on the KAT STORE and AMAZON & MORE Kat Goodies
3. Kat what's your take on the sex appeal in the music industry?
Answer:
THE GREAT KAT'S GUITAR VIRTUOSITY IS HOT & SEXY!!!!!!!!!!!