Robert Johnson – Blues Legend – Written by Lily Palastri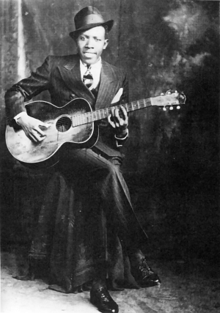 Robert Johnson was born on May 8th, 1911. He lived for just twenty-seven years. But in that time he became a legendary blues singer and musician, who ranks as one of the greatest guitarists of all time. He never knew fame or wealth in his lifetime, but his inimitable Mississippi Delta blues style is credited with influencing generations of musicians. Eric Clapton named him as 'the most important blues singer that ever lived', and he is said to have been a great influence on Keith Richard and Jimi Hendrix. So who was this little-known musical prodigy, and how did he achieve such a remarkable status in such a short lifetime?
http://www.robertjohnsonbluesfoundation.org/
Robert Johnson The Story
Early Life
Robert Johnson was raised in Hazlehurst, Mississippi, by his mother Julia Major Dodds, and his father Noah Johnson. He appears to have been relatively well educated, and showed and early musical aptitude on the harmonica and jaw harp. Tragedy struck after he married sixteen-year-old Virginia Travis, in February 1929. She died not long afterwards, giving birth to their child, who did not survive. Johnson decided to focus on becoming a musician, although it was reported that his guitar skills were dreadful at that time. Son House, who met Johnson in Robinsville, where he settled for a while, made this observation. House was to meet his musical partner, Willie Brown in Robinsville, but Johnson didn't stay in one place for long. He took the lessons that Son House had imparted and went on to make a sound that was all his own.
Faustian Pact?
Superstition surrounds Johnson's preternatural ability with his instrument. There were rumours that in fact, far from being in any way natural, his sudden development into a master musician was as a direct result of a Faustian pact he had made with the Devil. He had spent time with Isaiah Zimmerman, who had also coached the young man, and he too was rumoured to have acquired his musical ability from spirits. The legend ran that Zimmerman learned to play guitar when visiting graveyards after dark. It's a fascinating insight into how the world was viewed at this time in Mississippi.
When Johnson returned to Robinsville from his travels, his new-found skill caused suspicion. He could pick up a tune having only heard it once. House was convinced that there had been a pact made, and the legend grew. Johnson was said to have met the devil at a crossroads where he received his gift. A sign stands at a crossroads in Clarksdale, Mississipi to this day, which purports to be the site of the exchange.
Ducking And Diving
Robert Johnson settled in Martinsville, where had a child with a young woman called Vergie Mae Smith, although he actually married Caletta Craft in 1931. He abandoned her a year later, when she became ill, and took to the road as an itinerant musician. Over the years, he traveled around frequently, from city to city – Memphis, Arkansas, Helena and smaller towns within the Mississippi Delta. He laid his hat wherever he could find a willing recipient, and there were plenty. He had many partners, none of whom knew about the others. Johnson had many different names, to keep ahead of his game, and had up to eight surnames at one time.
It is hard to know the nature of the man, since he was so obscure in his lifetime. But from collected memories from those who survived him, a picture emerges of a quiet, well-mannered man, with a weakness for drink and womanising, who could never stay in one place for long. Nobody really had a bad word to say about him – except perhaps one of his many girlfriends.
Playing For Dimes
When Johnson first arrived in a new location, he would go to a well appointed spot on the pavement and start to play, usually in front of a busy store, or barbers shop, where there was plenty of footfall.  He played crowd-pleasing popular songs of the moment. He saved his own compositions for another time. He was a natural performer, often charming his audience totally and finding no difficulty in finding a bed to sleep for the night.
He usually attached himself to a woman, who would take him in and take care of him. He ingratiated himself with the local community in this way, and thus was a welcome arrival when he reappeared after a period away. Sometimes his trips would take him further afield, to Chicago, Texas, New York, Kentucky or Indiana. He traveled with fellow musician Johnny Shines, and played with Henry Townsend in St Louis. He always wandered back to Mississippi however, sooner or later.
Recordings
Around 1936, Johnson approached a store owner, H.C Speir, who side-lined as a talent scout. He was living in Jackson, Mississippi at the time. Speir managed to secure him a recording deal, and a session was set up. For three days Johnson recorded for Brunswick Records in San Antonio, facing towards the wall as he did so – probably as an acoustic aid. He recorded 'Come On In My Kitchen', 'Kind Hearted Woman Blues', 'I Believe I'll Dust My Broom' and 'Cross Road Blues' during these sessions. The boogie bass line from 'I Believe I'll Dust My Broom' has become a standard for blues guitarists and is so familiar that it's hard to imagine the astonishment it caused at the time. It was completely new to audiences then and something 'people would only ever have heard on the piano'. It's one of Johnson's many legacies.
In 1937, he traveled to Dallas for another recording session, on Park Avenue, and in total eleven tracks from this session were released the following year. By 1938 Johnson was dead.
Suspicious Circumstances
It is most likely that Johnson was murdered by poisoning. Although it is impossible to know the precise story, there is a suggestion that a jealous husband, who had witnessed Johnson flirting with his wife, gave him poison. The woman offered Johnson an open whisky bottle, which disguised the taste. He had to be helped to his bed feeling ill shortly afterwards and his condition steadily worsened over the following three days. It was a time of very basic medical knowledge. There were no modern drugs, such as anti-convulsants, that could have helped him.
Modern medicine, which has now given us the capacity to buy Propetia and botox at the click of a button, could deal with very little in the way of even basic medical emergencies in the 1930's. Even if Johnson could have afforded to call a doctor, there is probably little that could have been done to save him. Over the course of three days he declined, experiencing severe pain, and convulsions. It was a horrible death.
Years later, someone on the trail of Johnson's story, claims he found the man who murdered him, who confessed. He refused to identify the man, however.
Legacy
Although he remained virtually unknown in his lifetime, and for many years afterwards, he finally achieved recognition after the release of King of the Delta Blues Singers, a collection of his music, which was released by Colombia Records in 1961. Since then he has received accolades and awards, won a Grammy, entered the Rock and Roll Hall of Fame, and inspired nine tribute albums. He is widely cited as one of the most influential musicians of his time, with a musical legacy which still resonates down the years.
Comments
comments