Malina Moye, singer songwriter Rock and Funk Guitarist. Interview September 11, 2012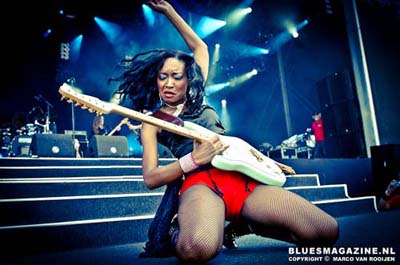 Malina Moye Interview
1. What are some of your new musical projects right now?
Right now, I'm mixing and mastering my sophomore record called Rock & Roll Baby!
2. How was your summer any cool tours?
My summer was great, Earlier this year I'd say a highlight for me was playing a few nights with the Experience Hendrix tour. Jamming with my guitar heroes and having fun. We did a few great one-offs and lots of recording for the record. I have few guest surprises I hope my listeners will enjoy. My music is also in this new film called My Uncle Rafael hitting movie theaters next week on Sept 21.
3. What are some of your current endorsements?
Fender, moody straps, Ernie ball strings, Dimarzio, Dunlop.
4. What's your take on the sex appeal in the music industry?
I think that music has always been sexy, that's also part of the mystique behind it. It's important to do the work and if you are sexy it's going to come through regardless whether you're wearing provocative clothes or a full tailored suit. I think it's a feeling that comes through.
5. What are some of the best social media sites you use to promote yourself as a musician?
I have a team of people who help to keep my image and brand out there, but I have to tell you facebook and twitter are incredible. I'd suggest to everyone be active on those sites.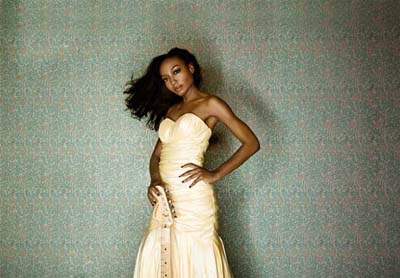 6. Do you practice your instrument every day to keep up with current styles and genres?
I wish…. hahaha I like to definitely keep current with what's going on, but I'm an artist who always challenges the industry and the sound. I like to mix a pot of music gumbo and call it the Malina Moye sound. Certain things are just in your DNA. I think this is why so many people respond to me and my playing. I'm not trying to be anyone but me.
7. What would be some of your main influences?
As a guitarist, Hendrix, Vaughn, Clapton
8. Could you describe what goes on in a day in your life?
Depending on what's going on, a day could possibly go like this: interviews in the morning, speak with my manager, and agents, discuss the agenda for the week, go for a work-out, then lunch meetings and sometimes photo shoots, and of course rehearse. If there's a tour involved, all the above except add in sound check.
9. Any upcoming tour dates?
Yes, I'm heading to London to perform at the London Summer Jam! I'm super excited because I'll be leading a massive crowd of musicians on one song for the biggest mass jam in the UK…and maybe history.
10. Any advice for musicians that are starting in the music industry?
Continue to get better at your craft, and keep positive people around you. Use the social media sites, they can introduce your music, or style to many people. Never give up , never quit, and find what makes you unique.
Check out Malina Moye Online http://www.malinamoye.com/
Comments
comments