The Great Kat – Worship Me or Die! – Review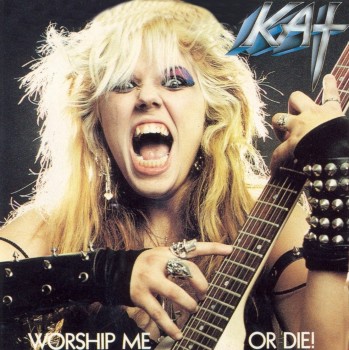 The Great Kat Worship Me or Die!
The Great Kat just recently re-mastered and re-released her 1987 classic album Worship Me or Die! The newly numbered limited edition of Worship Me or Die features the Great Kat at blistering tempos and intense high pitch screams that could only be delivered by the metal messiah herself. This album has very interesting solos and techniques which continue to this day in her playing.
Some methods on this album use harmony twin solos at lightning speeds to create the originality of the Guitar Goddess. In this album you get to hear how good a player she is from strong, fast rhythms and fast solos. The rhythm guitar tones are very classic and well delivered. The tone sounds like classic Marshall Amps. One very interesting technique she has made for herself would be the fast tremolo picking rhythms, it can possibly only be heard in the Great Kat products.
High points for this album of course would be Metal Messiah. The dual solos that start the song Metal Massacre are very unique, fast and precise. Ashes To Dust would be another great track that showcases some interesting pieces on guitar and very rhythms. Overall what you get on this album is classic guitar riffs and tones mixed in with very fast shreds only possible by the Great Kat.
For anyone who has not seen the original promo video for Metal Messiah should check it out to see the beauty and raw energy of this Guitar Goddess.
Comments
comments