Spread The Metal Festival in Halifax featuring Morbid Angel
1st Annual Spread the Metal Festival – Halifax, Nova Scotia – now live streamed worldwide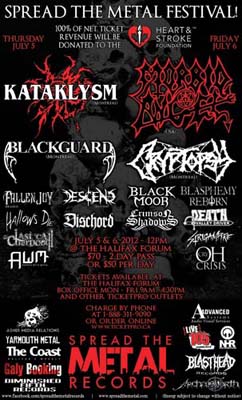 Live 105 Modern Rock and Spread the Metal Records of Halifax present the 1st Annual Spread the Metal Festival, at the Halifax Forum, on July 5th and 6th, 2012 – 12:00 noon to 11:00 pm both days. NEW development the Festival will be Live Streamed worldwide.
Spread The Metal Festival
Two Days – and 16 awesome metal bands, with Kataklysm headlining day one and Morbid Angel headlining day two, will scorch the Halifax Forum's stage.
The bands appearing in this historic, 1st Annual Spread the Metal Festival, hail from France, Sweden, the USA, and across Canada.
The 1st Annual Spread the Metal Festival will donate 100% of the net revenue to the Heart & Stroke Foundation. The goal is to donate at least $100,000. Each year the Festival proceeds will be donated to a different charity.
In an exciting new development, the festival will be streamed live worldwide through Halifax-based Liveonlinecanada.ca. The web cast is available for registration starting in late June, at $20 for both days or, $15 for one day. All net proceeds from the live stream will go directly to the Heart and Stroke Foundation:http://www.liveonlinecanada.ca
Matt Day established Spread the Metal Records in 2011, and now represents several burgeoning, young and hard working metal bands. The Label's 1st Annual Spread the Metal Festival is proud to feature several of Matt's Spread the Metal Label bands: Answer With Metal (Stouffville, Ontario), Blasphemy Reborn (Melfort, Saskatchewan), Crimson Shadows (Toronto, Ontario), and Fallen Joy (Paris, France).
Matt's Metal Roots run deep and so will yours when you wake up the morning (or afternoon) of July 7th after an historic two days of world class metal. Media passes available on request.
Links to participating band web and Facebook sites (* are on the Spread the Metal Records Label):
Answer With Metal – (Stouffville, ON) *
Blackguard – (Montreal, QC)
Black Moor – (Halifax, NS)
Blasphemy Reborn – (Melfort, Saskatchewan) *
Crimson Shadows – (Toronto, ON) *
Cryptopsy – (Montreal,QC)
Cry Oh Crisis –  (Fredericton, NB)
Death Valley Driver – (Charlottetown, PEI)
Descend –  (Sweden)
Dischord – (Moncton, NB)
Fallen Joy – (Paris, France) *
Hallows Die – (Mississauga, ON)
Kataklysm – (Montreal, QC)
Last Call Chernobyl – (Halifax, NS)
Morbid Angel – (Tampa, Florida)
Strigampire – (Trois-Rivieres, QC)
Matt is a fourth year Russian Studies and Philosophy student at Dalhousie University. In 2011 he studied at the University of St. Petersburg, Russia. He is also a Phi Delta Theta Fraternity brother and alumnus. This year he received the Fraternity award for his Community Service work. He has been a volunteer fundraiser for several years, for Heart and Stroke, Cancer Society, Phoenix House, the Arthritis Society, ALS and the Parkinson's Society, receiving the Queen's Golden Jubilee Award in 2002.
Comments
comments