Dave Khan, Guitarist and Vocalist from Canadian Medieval folk metal band Scythia. Interview October 9, 2012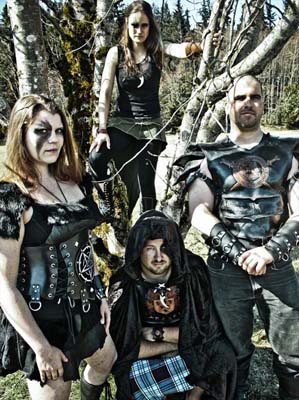 Scythia Interview
1. Could you tell me about the recording of Scythia's EP For The Bear?
We re-recorded 3 songs off the first Scythia album "…of war" to showcase our current lineup, which includes the oboe instead of the violin.
These new versions definitely represent our new sound, as you would hear us live. The actual recording process was done throughout 2011 and 2012. The drums for 3 of the songs were recorded at the same time as we were recording our second album "…of exile" in 2011, and the rest was recorded amongst many different locations, including The Armoury Studios (drums, guitar), Dave's bedroom (bass) and our producer's basement under a cave of blankets (vox and oboe)
2. How did the song writing process work?
Montreal Reel and Vide0 Game Medley took a little longer to write because it involved some elaborate arranging. Aside from that, the other two new ones were pretty quick to write.
3. What would be some the amplifiers and guitars used in the recording to create the tones?
Engl Invader 100watt head, Warrior Black Knight guitar, Fender 100watt Rumble bass amp and HP Soundgear SR350 bass, Drums – Pearl Masters for most songs, Oboe – Loree oboe
4. How is the touring life these days?
Our current tour across BC is going very well, great turn outs, great merch sales….our highlight was definitely Noctis in Calgary, opening up for such great bands as Grand Magus and Venom!
5. You are preparing for a Canadian tour how is it touring Canada these days?
Touring Canada is fun (minus the long stretch of nothingness between Saskatoon and Thunder Bay!)
6. The equipment and instruments used on stage would they be mostly the same as the album?
Yes
7. While on the road do you find time to practice your instrument?
This tour we've been lucky to have days off to practice and write new songs. As for practicing, we don't really feel inclined to do that on the road.
8. Would you say the health of the Folk Metal scene is becoming stronger worldwide?
We hope so!
9. What were your earliest influences?
Dave Khan – Iron maiden, Black Sabbath, Tool and Metallica
Terry Savage – Pink Floyd, Black Sabbath, The Who, Guns & Roses, Green Day…
Celine Derval  – Iron Maiden, Tool, Fear Factory…
Morgan Zentner – ?
10. Where do you see Music in 100 years from now?
In 3D!
EXTRA QUESTIONS
with Scythia band members: Dave Khan – Guitar, Vocals, Terry Savage – Bass, Celine Derval – Drums, Morgan Zentner – Oboe
Life without music would be : Like Montreal poutine without the cheese, gravy or potatoes
Favorite movie: 
Terry – There's so many!!! I'm a huge movie goer, i can't just pick one! Lord Of The Rings.
Celine – Team America!!
Favorite sport :
Dave – jousting
Terry – beer drinking
Celine – riding my bike dangerously around town listening to loud fast music!
Morgan – sports?
Favorite food :
Dave – water
Terry – beer butt chicken
Celine – avocado and quinoa
Morgan – bacon
Favorite drink :
Dave – water
Terry – a nice rum and coke
Celine – Mr. Jack Daniels or Scandal beer
Favorite saying :
Dave – Jungle Cat World!
Terry – Ermergerd!
Celine – Yay!
Morgan – I don't like Dream Theater cuz we're broke!
Favorite car :
Dave – GM C Sierra 3500
Terry – Bugatti Veyron
Celine – flat black 1970 El Camino
Morgan – brian's truck
Favorite book :
Dave – Meetings With Remarkable Men
Terry – Song Of Fire & Ice
Celine – The Dark Tower (series)
Morgan – books?
Favorite band :
Dave – My Own Chaos
Terry – Pink Floyd
Celine – Tool & Dream Theater
Morgan – Tyrant's Blood
Star Wars or Star Trek :
Dave – Star Wars
Terry – Star Wars
Celine – My answer will create problems with my band (Star trek)
PC or Mac :
Dave – Mac
Terry – PC
Celine – PC (converting to Mac)
Morgan – Mac
Comments
comments